A few years ago, we came across a very inspiring program on CNN. It was a feature presentation on the '
Devil Docs
', a group of Navy medical professionals assisting on the front lines of combat.
The amazing part of the story revolves around a CNN reporter/medical correspondent by the name of
Dr. Sanjay Gupta
. He was in Iraq to report the news, but instead found himself in the surgery tent. Dr. Gupta is a neuro-surgeon and graduated from the University of Michigan Medical School. It is therefore no doubt that this man has the knowledge and experience to get the job done.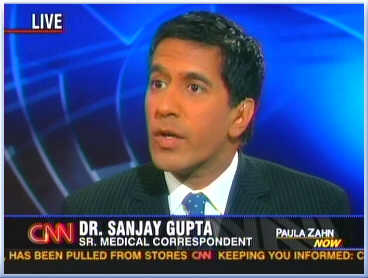 In the end, Dr. Gupta performed as many as 5 surgeries beyond the call of duty as an embedded reporter. He was saving Iraqi lives, especially seriously injured Iraqi children at that.
Frankly, that is a sense of generosity, selflessness and humanity not taught in the best of medical schools. Dr. Gupta should be a role model for many, particularly young doctors heading into the medical profession. On top of that, he is also a role model for immigrants in America wondering how they could contribute to society. It doesn't get any better than to contribute to the American society by saving lives of American soldiers.
[ad#ad-1]